Local Activities & Resources
Because of our convenient location between Providence, Rhode Island and the famous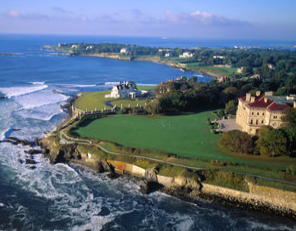 Newport mansions and cliffwalk you can enjoy the amenities of all the best that Rhode Island has to offer.
Take in a play or opera in our Capital City of Providence and enjoy one of the many wonderful restaurants. Perhaps because Johnson Wales Culinary Institute is located here and our restaurants are famous for their Nuevo cuisine prepared by young and talented chefs.
Providence offers you easy access by flying into TF Green Airport and the Amtrak train station is located in the center of the city.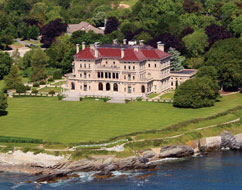 Newport, famous for it's mansions, yacht clubs and busy harbor is a delight to visitors as well as New Englanders.

With Boston only an hour away from Bristol, Point Pleasant Inn staff will be happy to help you plan and arrange a day of sight seeing in the famous "All American City".
Whatever your agenda reflects, we at Point Pleasant are here to assist you. We offer a full service business office for your business and conference needs.
---
Colt State Park – Colt State Park located in Bristol is often referred to as the 'gem' of the State Parks System. The entire western border of the park is an open panorama onto Narragansett Bay. Open year round, the park offers four miles of bicycle trails passing along the Bay and through 464 acres of groomed fruit trees, carefully nurtured flowering bushes, and manicured lawns. Rich in history, it proudly displays its popular open air Chapel-By-The-Sea, ten large playfields, and six picnic groves containing 400+ picnic tables.
Blithewold Gardens – Blithewold Mansion, Gardens and Arboretum is a beautifully landscaped historic property situated on Bristol Harbor with sweeping views overlooking Narragansett Bay. A forty-five room mansion, trees, lawns, flowers, and the sea combine to produce an aesthetic experience that is exciting and refreshing.
Roger Williams Park – Roger Williams Park Zoo has been named one of America's top ten zoos by Travel & Leisure Family Magazine (1999 spring/summer issue). Providence's award-winning Zoo was chosen for the honor from among 186 accredited zoos in the country. Joining Roger Williams Park Zoo in the top ten list are such notable institutions as Zoological Society of San Diego, the Wildlife Conservation Park in Bronx, N.Y. and Arizona-Sonora Desert Museum in Tucson, Arizona.
Newport, RI. – Newport, "America's First Resort" takes pride in ensuring that everyone finds something that appeals to them. Tours abound in Newport – consider a sunset harbor cruise, a winery tour, or a trek down breathtaking Ocean Drive or the renowned Cliff Walk.
Roger Williams University – Accredited by the New England Association of Schools and Colleges, Roger Williams boasts modern facilities and a faculty dedicated to teaching. More than 2,100 full-time students from across the country and throughout the world come to Roger Williams University to major in a wide range of liberal arts programs or select from the professional programs in architecture, business, engineering, historic preservation, justice studies and law. Extracurricular activities, numerous internship and cooperative education programs and service learning opportunities provide balance to students' academic endeavors. Visit Roger Williams University and see how you can learn, explore and succeed with us.
Haffenreffer Museum of Anthropology – Brown University's major museum, located at the base of historic Mount Hope in Bristol, Rhode Island. A treasure house of exotic objects from around the world, the museum houses fascinating artifacts from the native peoples of the Americas, Africa, Asia and the Pacific. For the public, the Museum provides a unique opportunity to learn about other peoples and their cultures through fascinating exhibits, and an active calendar of lectures, films, gallery talks and special events. For local schools, the museum is a leader in experiential education, and offers a variety of field trip and outreach programs. For anthropologists and their students, it is a vital center for teaching and research.
Abbington Village – New England Travel Planning Information. Abbington Village is the perfect place to help you plan your New England vacation.
The Audubon Society of Rhode Island – The Audubon Society of Rhode Island (ASRI) is an independent, non-profit environmental organization dedicated to statewide environmental education, conservation, and advocacy. Since founding in 1897, the society has been committed to helping people better understand and appreciate their environment.